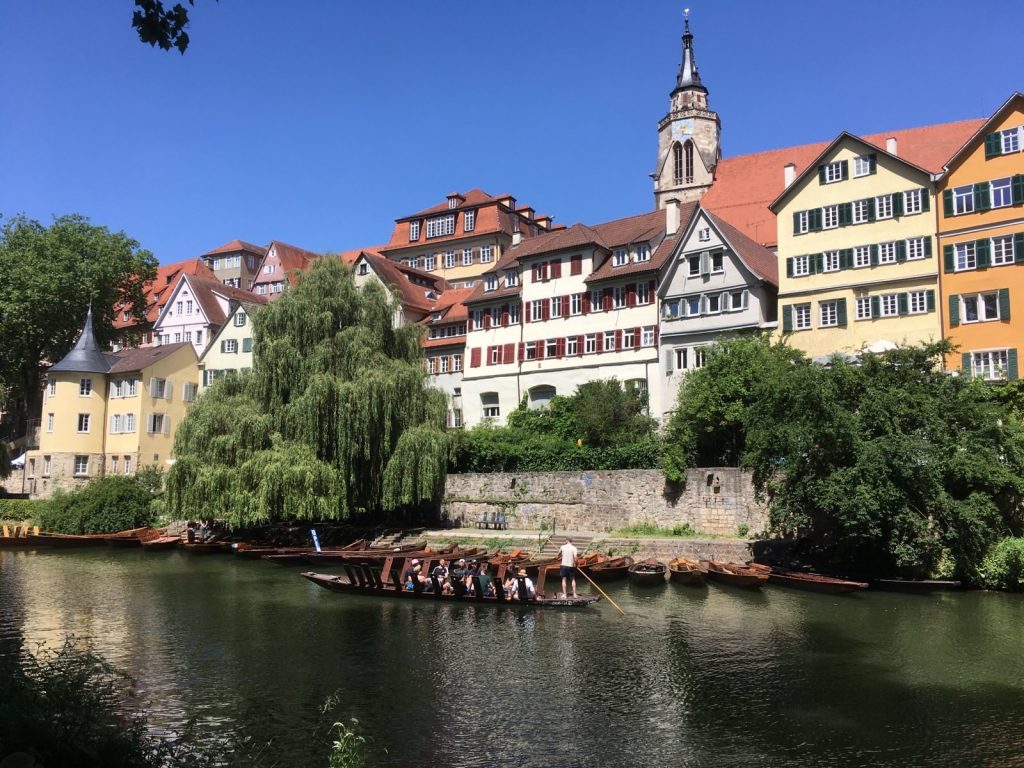 22 Ulm students from 7 countries went to Tübingen with ASSIST on June 11, 2022. With sunshine and bright blue skies, the charming city on the Neckar welcomed the group from Ulm. A colorful mix of day-trippers, Tübingen students and street musicians populated the alleys of the old town. Ice cream parlors and sidewalk cafes made record sales and the Neckar River was a hive of activity with different boats.
The city guide, an American, was well received by the group. With charm and esprit, he introduced his international guests to the history of the university town, special features of German universities and German cultural history.
The students from the "young" University of Ulm were amazed to see that some of their peers actually attend seminars in centuries-old, picturesque buildings such as the "Alte Aula, the "Burse" and "Hohentübingen Castle".
The world's first laboratory for biochemistry was established in Tübingen Castle in 1818, and it has been open to the public since 2015. The laboratory met with great interest, especially among science and medical students. At this location, they came within reach of the beginnings of their fields of study, for it was here that the Tübingen scientist Felix Hoppe-Seyler had discovered hemoglobin in 1861. Only eight years later, Friedrich Miescher isolated nuclein, the substance that carries our genetic information and is now commonly known as DNA, in the castle laboratory.
Of course, there was still "free" time: some participants chilled in the park, others were enthusiastic about the exhibition in the University Museum of Ancient Cultures, still others enjoyed the summer day in a pedal boat on the Neckar River.

Gudrun Köpf and Erla Spatz-Zöllner were there as ASSIST Senior Consultants.
Author: Gudrun Köpf
Pictures taken during the excursion: